UCSF places education—of students, residents, fellows, faculty, clinicians, researchers, patients, families, and caregivers—at the heart of all that we do.
The Division of Palliative Medicine has a robust, diverse array of education programs. We're committed to identifying and implementing interdisciplinary opportunities for education and outreach in the field of palliative care.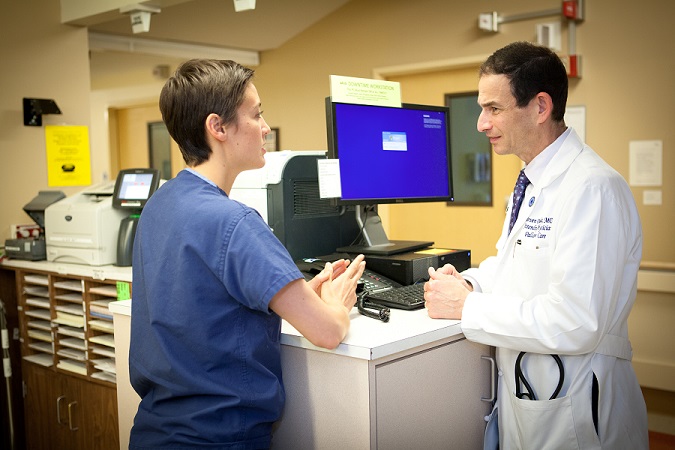 Intramural Education Programs
Monthly Education Hour
The Division of Palliative Medicine hosts a monthly education session, held the 3rd Thursday of each month, 8:30-9:30 AM. This education series focuses on a wide-range of topics relevant to the care of people with serious illness, as well as their family and professional caregivers. Our values include evidence-based practice, whole-person attention, and transdisciplinary team-based care. Sessions will include a variety of formats, with a focus on interactivity and active learning, experiential and case-based learning, and mining both the palliative care experience and also learnings from outside specialty palliative care. Topic areas include resiliency, understanding the scientific literature, the transdisciplinary perspective, and emerging clinical practices.
All learners and teachers are welcome! 
Fellowships
Our fellowship programs train top physicians in a fully transdisciplinary environment to become compassionate, clinically excellent leaders in all areas of Hospice and Palliative Medicine.
Resident Education
Our division is highly engaged in resident education. Along with clinical teaching by fellows and attendings on our inpatient teams, residents can participate in UCSF's community-based palliative care services, including home-based and clinic-based palliative care.
Medical Student Education
UCSF medical students can rotate with the Palliative Care Consultation service in their 4th year. This elective gives students exposure to the principles of pain management (including opioid use and conversions), the basic approaches to non-pain symptom management and key communication skills around serious illness. During the rotation, students will design a patient goal-oriented discharge plan for a seriously ill patient with priority given to hospice plans of care. They'll learn to identify core spiritual needs of patients with advanced and terminal illness. They'll also learn to recognize signs of burnout in medical practitioners and will gain exposure to resiliency practice. There are also opportunities for medical students in community-based palliative care services, including home-based and clinic-based palliative care.
Workforce Development
The UCSF School of Medicine and School of Nursing are dedicated to developing and implementing education programs to expand the palliative care workforce. As such, we work closely with leadership in the School of Nursing, which offers a Minor in Palliative Care. Learn more here.
Practice-PC
Practice-PC is a yearlong, interprofessional continuing education course in palliative care for practicing clinicians from medicine, nursing, social work, and spiritual care backgrounds.This course was created in 2015 to address a workforce shortage that is a key limiting factor in the dissemination of palliative care.

Featuring VitalTalk-style in-depth communications training, the program covers core domains of clinical palliative care, including but not limited to bereavement, psychosocial and spiritual well-being, pain and symptom management, ethics and advance care planning and interprofessional assessment.

For more information, visit our Practice-PC site or Gayle Kojimoto.
Extramural Education Programs
Palliative Care Leadership Center
California Health Care Foundation Partnership
VitalTalk
We are deeply engaged with VitalTalk, a nonprofit that teaches serious illness communication. Dr. Wendy Anderson, an Associate Professor in our division and one of our core attending faculty, directs the San Francisco Bay Area VitalTalk Hub. Dr. Anderson is also Principal Investigator of the IMPACT-ICU program, which seeks to integrate palliative care into the ICU by providing tools to improve nurse-physician collaboration and communication. 
MERI Center for Education in Palliative Care
Dr. Mike Rabow, Associate Chief of Education for the DPM and Director of the Symptom Management Service (SMS), also directs the new MERI Center for Education in Palliative Care.  MERI is dedicated to expanding primary palliative care at the UCSF/Mount Zion campus through a series of quality improvement projects.  In addition, MERI is building a clearinghouse of online and in-person educational offerings nationally.
Educational Scholarship and Research
DPM education scholars have produced important work in palliative care education research and are actively engaged in ongoing projects. Learn more here.